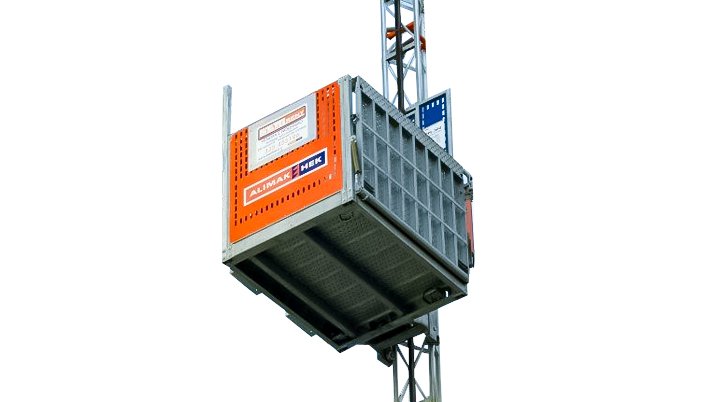 Alimak TPL500 Goods Hoist Hire
Goods only hoist hire from one of UK's largest rental fleets
The TPL500 goods only hoist is easy to use, and reliable construction hoist with the capacity to lift 500 kg up to 100 metres under 4 minutes. Contractors often hire these rack and pinion hoists for small and medium construction, refurbishments or rooftop renovation projects. Thanks to the small hoist car, the hoist requires only a little amount of space. Due to the lightweight mast sections and the sideway loading ramps, the mast can be built directly from the hoist platform without help from a crane.
Alimak's goods-only hoists: reliable and versatile
Alimak goods-only hoists are among the best construction hoists on the market. Whether you prefer reliability, capacity or quick assembly, at RECO Hoist Hire & Sales we have an Alimak construction hoist for every project. The TPL 500 is one of the smaller Alimak hoists with an internal dimension of 1.4x1.6 metre. It is quick and easy to assemble and completely reversible to fit best to the scaffolding or the façade in the building site. In order to prevent accidents or defects in the machine, the TPL 500 comes with integrated safety and overload protection devices. For more technical details about the TPL 500 construction hoist, download the specification sheet below or contact one of our advisors.
Capacity
Payload capacity

500 kg

Max. lifting height

100 m

Lifting speed

24 m/min

Max. passengers

0
Electrical data
Power supply

400 V / 3 PH / 50Hz

Fuses

11 A

Rated power output continuous duty

4.4 kW

Power consumption

7 kVA
Dimensions & weight
Platform dimension (WxL)

1400 x 1600 mm

Transport weight

850 kg

Mast section weight

50 kg