Safety and quality for safe hoist engineering and operation
Accreditation and certifications ensure you of the best hoist hire service
The safety of our employees, clients and other hoist users, have always been our top priority. We are committed to ensure the health and well-being of all that may be affected by our activities. Renting out construction hoists on large high-rise sites isn't considered a low-risk activity. Many of our field engineers are working at heights of over 80 meters on a daily base. By providing frequent training and the latest safety equipment we ensure our clients of safe and reliable service and products.
Company memberships and accreditations
To demonstrate our commitment to safety and quality we annually achieve a range of widely recognised accreditations, regulations and memberships. This includes Achilles (Building Confidence), the Contractors Health and Safety Assessment Scheme (CHAS), Fleet Operator Recognition Scheme (FORS). We are also proud members of the British Safety Council, Construction Plant Hire Association (CPA) and the UK Construction Hoist Interest Group (CHIG). Do you want to know more about specific accreditations or standards to a certain hoist or service? Then please contact our specialists.
Certified and qualified personnel
To ensure our clients of a reliable and professional hoist rental service, we make sure all our specialists qualify for their job by having the right certificates and qualifications. Each working team, whether in transport, installation or maintenance, has to consist of several specialists to provide a safe and reliable hoist. Below we've listed some of the required personal certificates and qualifications. If you have any questions about the certificates or employee selection process, please contact our office in St. Ives. We will gladly tell you more about our safety and quality regulations.
Site Supervisor Safety Training Scheme (SSSTS);
National Vocational Qualification (NVQ): Level 3 in Plant Installations – Hoists (Construction);
Mobile Vertical and Mobile Boom Operator Training Certificate;
Construction Plant Competence Scheme (CPCS) Appointed Person: Lifting Operations A61;
Several certificates offered by hoist manufacturers such as the Alimak Hek Scando Range Workshop Setup certificate.
Safe by design
Working as an independent hoist rental company allows us to select only the most safe hoists and equipment available on the market today. Each hoist is inspected thoroughly and certified before it becomes available for hire. To ensure you of the required level of safety, product specific documentation on safety regulations and installation details is provided with our quotation. All our hoists and elevators are compliant with the following regulations:
Machinery Directive 2006/42/EC
EN 811
EN ISO 38342
BS 7212: 2006 Safe Use of Construction Hoists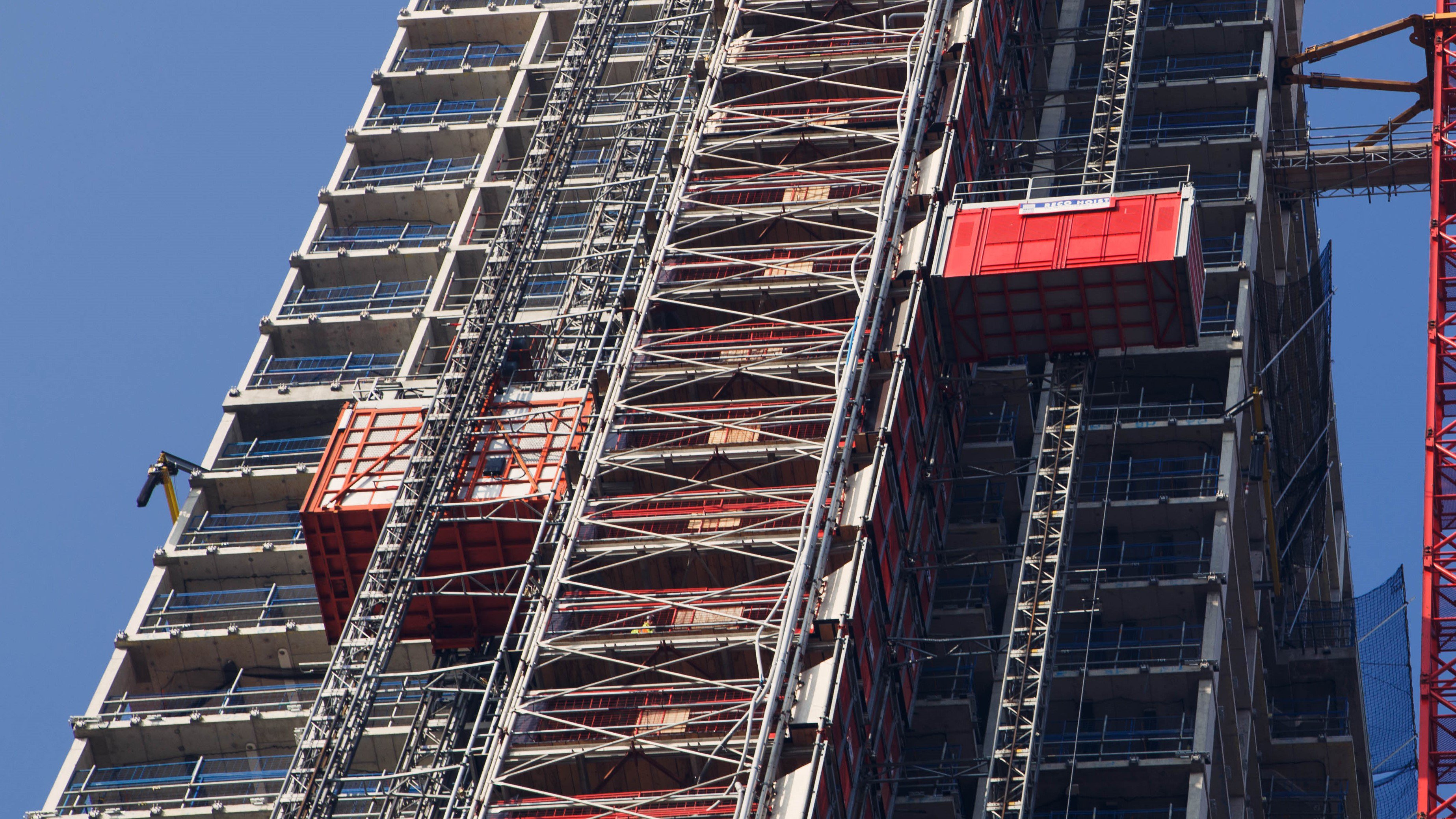 Inspection and certification of the hoists
Each hoist is periodically inspected and certified by both our engineers and an independent inspectorate. All our hoists undergo a full PDI at our headquarters before being transported to a new project. Once installed on a project, the hoist is inspected by our project supervisor or a qualified engineer. All installations of our hoists and lifts are independently inspected by a notified body as is required in the UK market. After installation rental hoists are inspected periodically and sold industrial elevators can be serviced through our maintenance service contracts. By working closely with hoist manufacturing companies and other notified bodies, RECO Hoist Hire & Sales is able to have inspections planned and executed on short notice, minimizing down time to a maximum.