Daring project comes to an innovative succes at Canary Wharf
Innovation and efficiency were brought together at Southbank Place London. Canary Warf Contractors (CWC) approached RECO Hoist Hire & Sales for a unique but challenging project. We were to supply hoists to transport both personnel and goods to all phases. The project has been challenging, but through working closely with our client, good relations have been formed in order to find a solution to every challenge.
CWC is a well known customer of RECO Hoist. Prior to the acquisitions from HTC we delivered an excellent service on a previous project; BP4. A multi-storey skyscraper situated in a prime location of Canary Wharf, to which we executed a fitting solution to every challenge.
Vertical transportation to all phases
For this project CWC required rack and pinion passenger goods hoists to transport both personnel and materials to all phases. This offered several challenges since the machines had to be placed and function in narrow spacing within the construction, while all phases would be undergoing construction simultaneously. By taking a good look at the project we were able to offer our client cost-efficient solutions and a "one stop shop" service. Especially the all-new RECO Access System delivered outstanding results for the project.
Bespoke grillage system to support construction hoists
At Southbank Place all hoists were to be positioned on a suspended RC slab. Our skilled engineers were able to execute a full design, manufacture, delivery and installation of bespoke grillage systems. The grillages allow the base loads of the hoists to be transferred to the supporting columns between the basement and the suspended RC foundation slab.
Continue cladding works with hoists in place
It was important in terms of the project program to be able to continue cladding works whilst the hoists were on site. Therefore we were asked to position the machines approximately 2 meters away from the serving slab edge. RECO Hoist designed, manufactured and installed a unique modular bridge type system allowing the loads to be safely transferred between hoist and building.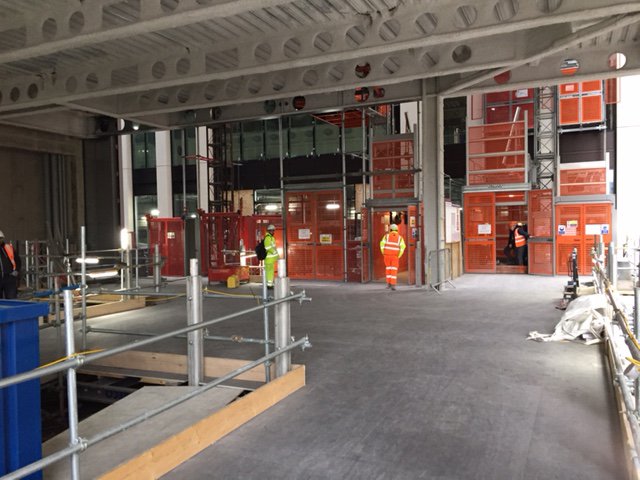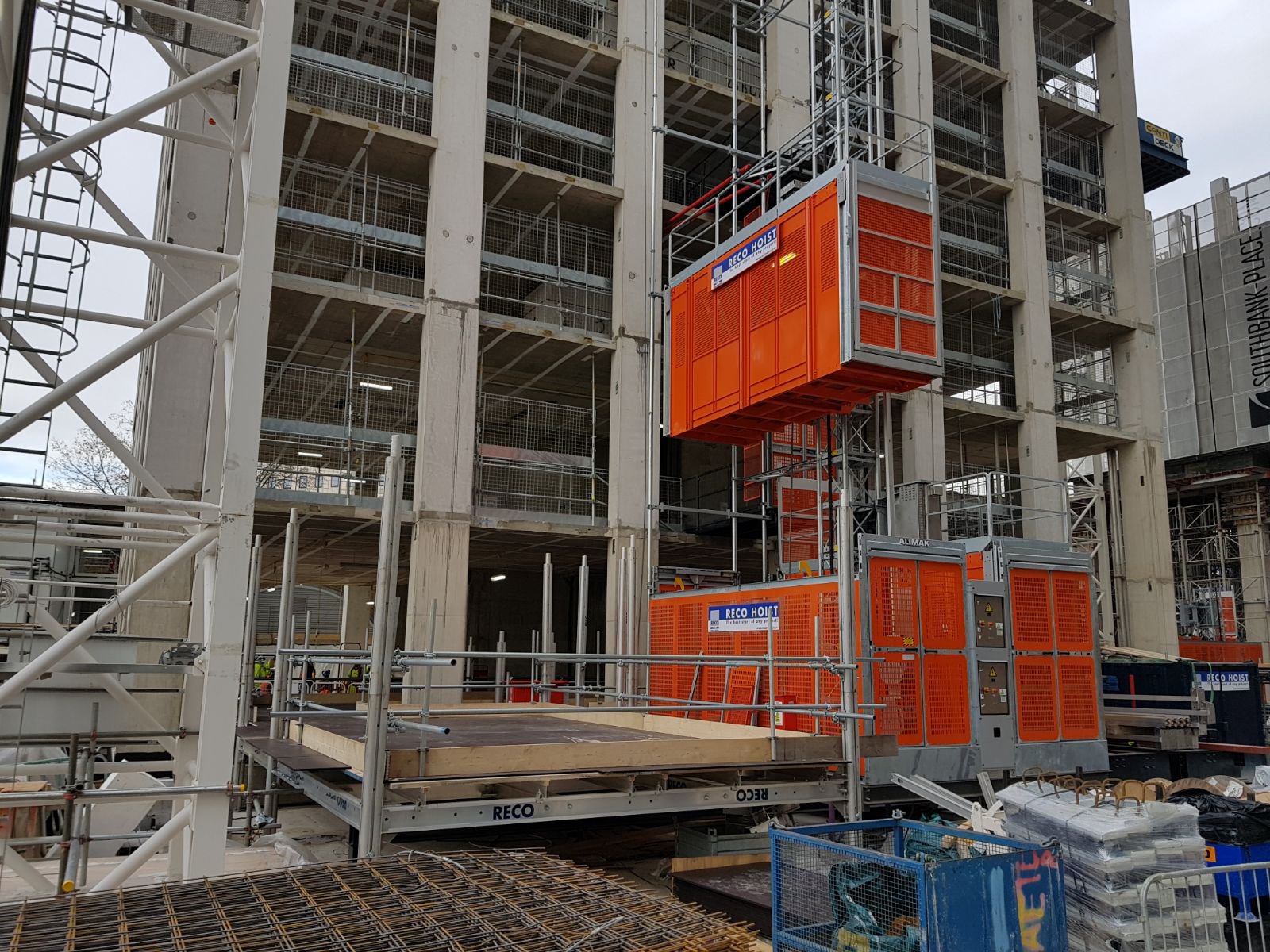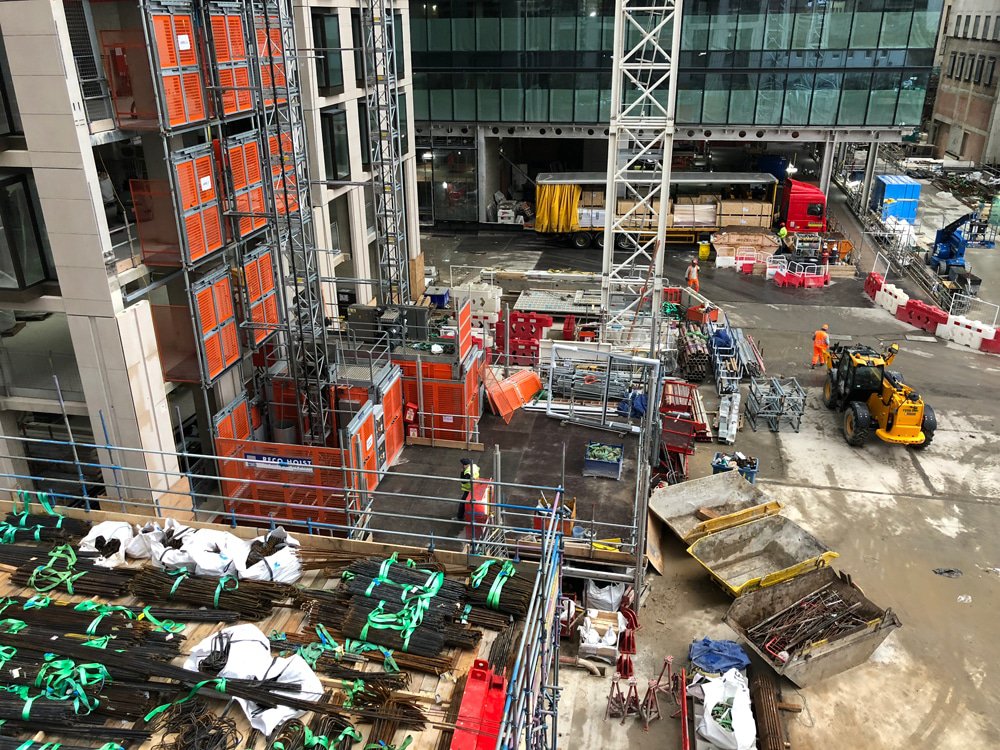 Bespoke Loading Dock design
As the machines were founded on grillages we were confronted with the challenge of how we would load the hoists with large heavy materials when the gate opening was situated approximately 1.5 metres high. To overcome this challenge we supplied our new RECO Access System and used as a 'loading dock'. This structure predominantly used for high-rise solutions demonstrates the adaptability of the system offering an array of applications for this product. We also adapted this system within the buildings at base level measuring in some cases anything upto 60 square meters, offering  a smooth level load-out area for materials and personnel.
To furnish so many machines simultaneously on such a large demanding project was initially our biggest challenge. To overcome this hurdle, RECO Hoist invested heavily in new state of the art Alimak Hek hoists and equipment. The Alimak Hek hoists are market leaders in their field, offering a durable machine with excellent speed payloads and reliability. Its modular type design allows excellent compatibility across the project and is often the preferred choice of the customer.
By being able to overcome the hurdles and invest in new equipment we demonstrated our commitment not only to the client but also the hoist market industry. Due to the size of the project RECO Hoist factored in a resident project manager  to oversee all installation activities and attend CWC daily and weekly site briefings ensuring continuity and quality between supplier and client. All together the project was a succes and we are exited to look forward to our next challenge with Canary Warf Contractors.