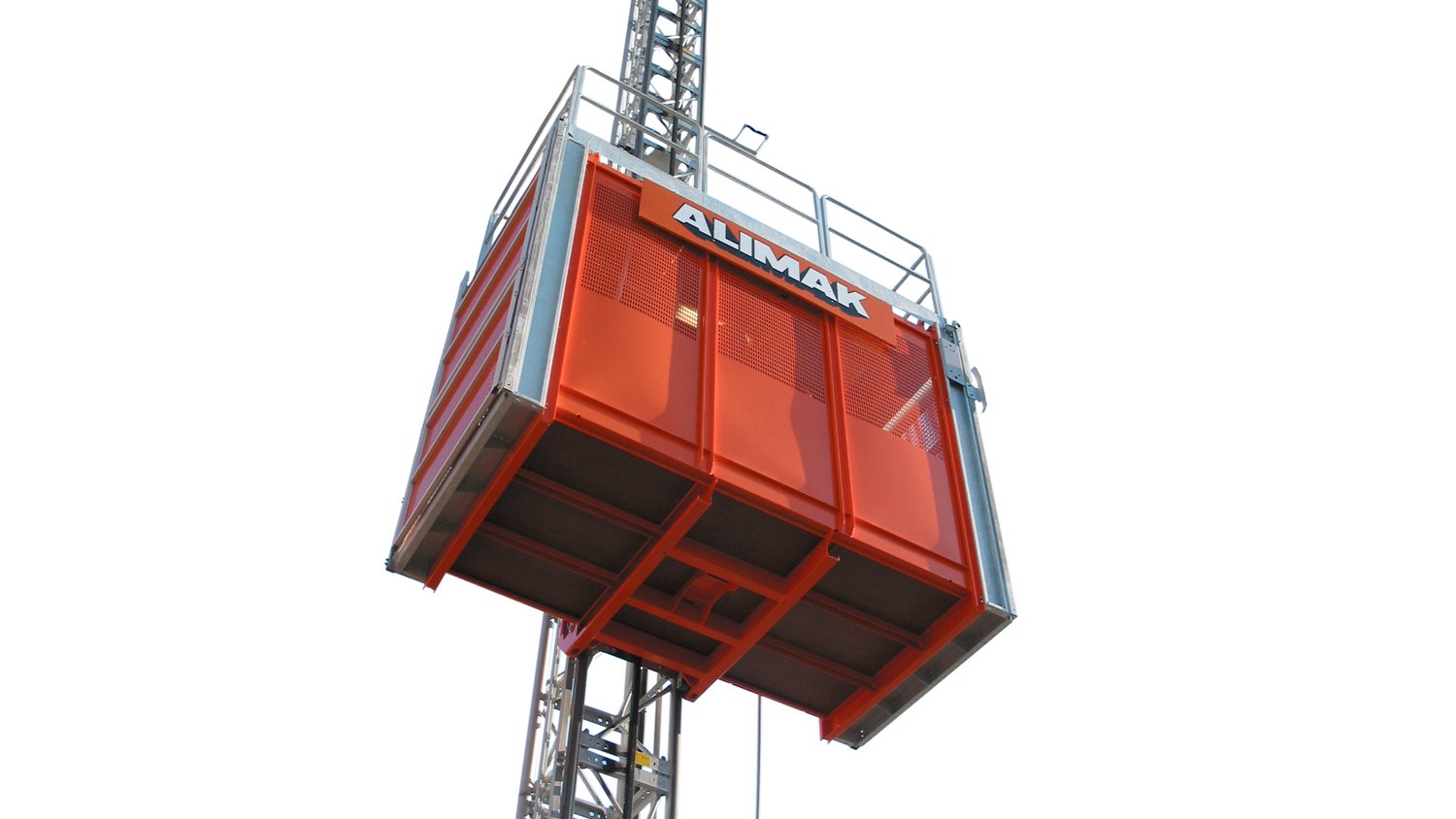 Alimak Scando 650 FC 50 Passenger Hoist Hire
Passenger hoist hire for any high-rise construction site
The Alimak Scando 650 FC 50 is a large construction hoist for passenger and goods within high-rise building and refurbishment sites. This model of the Scando 650 range stands out due its unique large cabin size. These modern hoists are constructed from lighter but still extremely robust materials, boasting a modular design across the range. This new design allows the 650 range to be not only larger and faster, but also capable of higher lifting capacities. The Alimak 650 FC 50 hoist is certified to hoist both personnel and materials with a maximum payload of 2,500 kg. The hoist car is fully enclosed and offers a 2.0 x 5.0 metre internal cabin, and a cabin height of 2.3 metres. These large hoists have become more and more popular allowing the contractor to vertically transport large cladding panels within the hoist, and compliments the RECO Common Tower access system perfectly when using on high rise projects.
Alimak's Scando construction hoists
Alimak Scando construction hoists are among the best building hoists in the hoist rental market. Versatile, reliable and safe are common characteristics of the Alimak hoists. Each Scando hoist is supported by mast sections universal to the Scando range. This allows two different Scando building hoists to be connected to the same mast and to be easily replaced or repositioned within the building site. The Alimak Scando 650 FC 50 passenger goods hoist is therefore an excellent choice for medium and larger high-rise construction projects. In case of a malfunction, the hoist will activate its integrated safety mechanisms to prevent accidents and damage to the building. For more information about the Alimak Scando 650 FC 50 passenger hoist, download the specification sheet below. Do you wish to rent a bespoke hoist car to meet the needs of your project? Please contact one of our hoist specialists for a specific quotation.
Capacity
Payload capacity

2500 kg

Max. lifting height

200 m

Lifting speed

54 m/min
Electrical data
Power supply

500V 3PH 60 Hz

Fuses

125 A

Rated power output continuous duty

3 x 11 kW

Power consumption

65 kVA
Dimensions & weight
Internal dimension (WxLxH)

2000 x 5000 x 2300 mm

External dimension (WxL)

3050 x 5700 mm

Entry dimension

2000 x 2300 mm

Mast section length

1.508 m

Transport weight

4150 kg

Mast section weight

135 kg