RECO Air Purifier prevents virusus from spreading indoors: Ventilation only isn't enough to battle COVID-19!
Beat COVID-19 with the Plasma Air Purifier
Plasma air purifiers are effective in preventing viruses from spreading indoors. Scientific research has shown that viruses spread through aerosols in the air. These viruses attach themselves to the aerosol particles that float around the room. To protect your employees, customers, or students from the risks of contagious aerosols, they must be removed from the indoor air. According to research, ventilation only is not enough to clean the air from contagious aerosols. However, in combination with innovative plasma air purifying, 90% of the possibly contagious aerosols in the room can be removed. Keep your spaces safe with the RECO Plasma Air Purifier!
This is why you choose the RECO Air Purifier
The RECO Air Purifier effectively eliminates viruses, bacteria, pollen and odours. It creates a safe and healthy environment for you, your employees and customers. The air purifier has 7 main benefits. These advantages, together with the unique purification techniques, make the machine one of the best available on the market:
Healthy, clean and fresh air!
Silent: Retain a nice and quiet environment.
Energy-efficient: Keep your organization sustainable.
Odourless: Obtain a nice and fresh environment.
User friendly: Anyone can use it.
Mobile: Put it wherever you want.
High capacity: Best air purifier for large spaces.
Want to know more about the RECO Air Purifier? Download our brochure.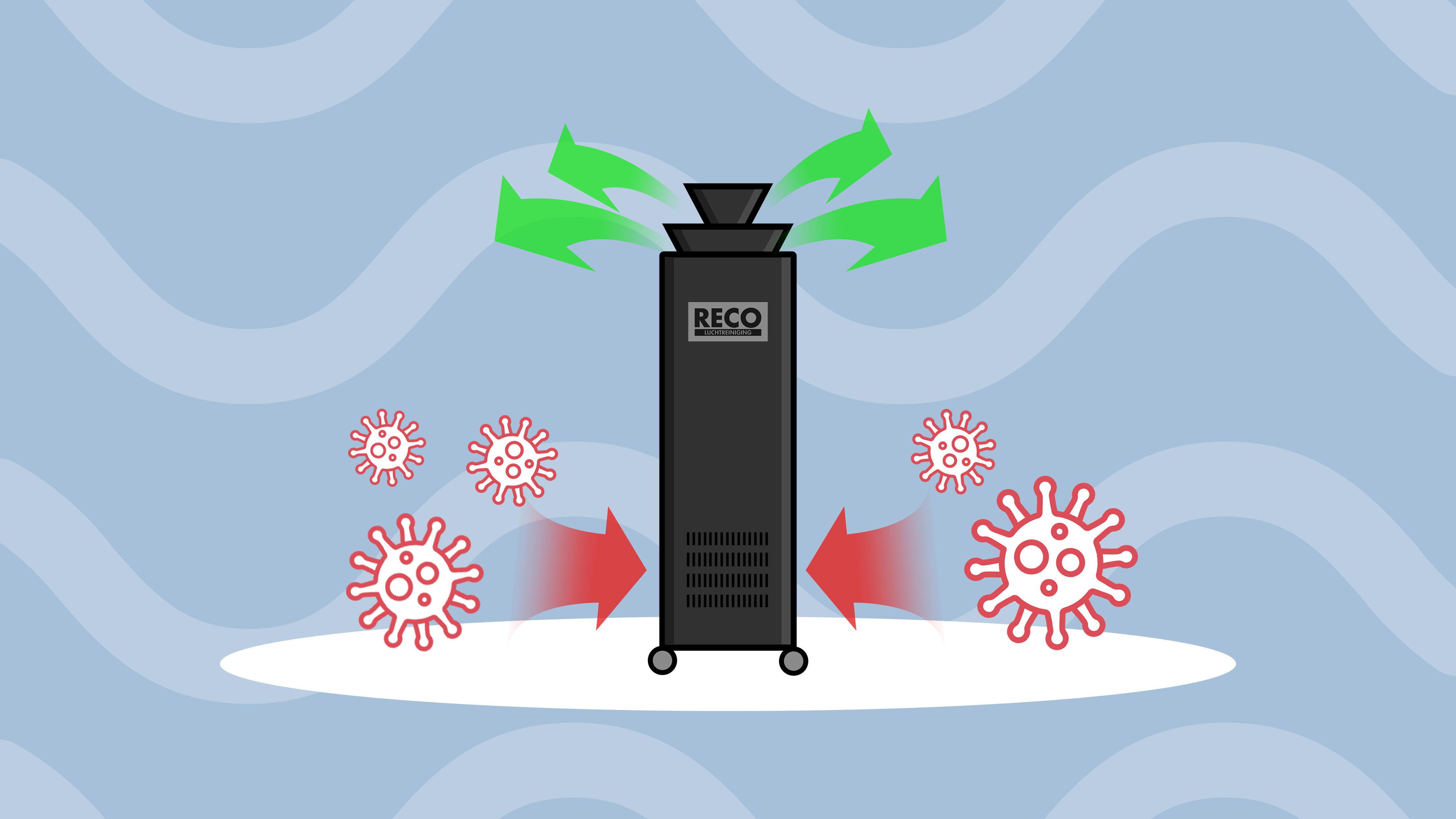 Ideal financing options for organisations with on-site personnel
RECO offers 2 financing options: buy and lease. With both options we offer a complete service package for free:
Free one-week trial
Free air quality measurement
Free bespoke advice
Free delivery
Lease
With lease, you pay only 25,- per week but have an air purifier in your room immediately. Besides that, we also take care of the maintenance throughout the lease period.
For example, if your gym has been closed for a long time, buying an air purifier may not be possible financially. Lease is a perfect solution in this case. If gyms are allowed to open again, RECO is ready to perform a free trial and air quality measurement straight away! Click on the button below to sign up.
Buy
If you want to own the machine straight away and provide healthy air to your employees and customers for many years to come, buying is the perfect option for you.
For example, if your business requires personnel to be on the job site instead of working from home, you can permanently provide a safe working environment by buying one or more air purifiers. Healthy indoor air stimulates creativity, improves concentration and reduces absenteeism. Therefore air purifiers are a valuable asset even after the pandemic.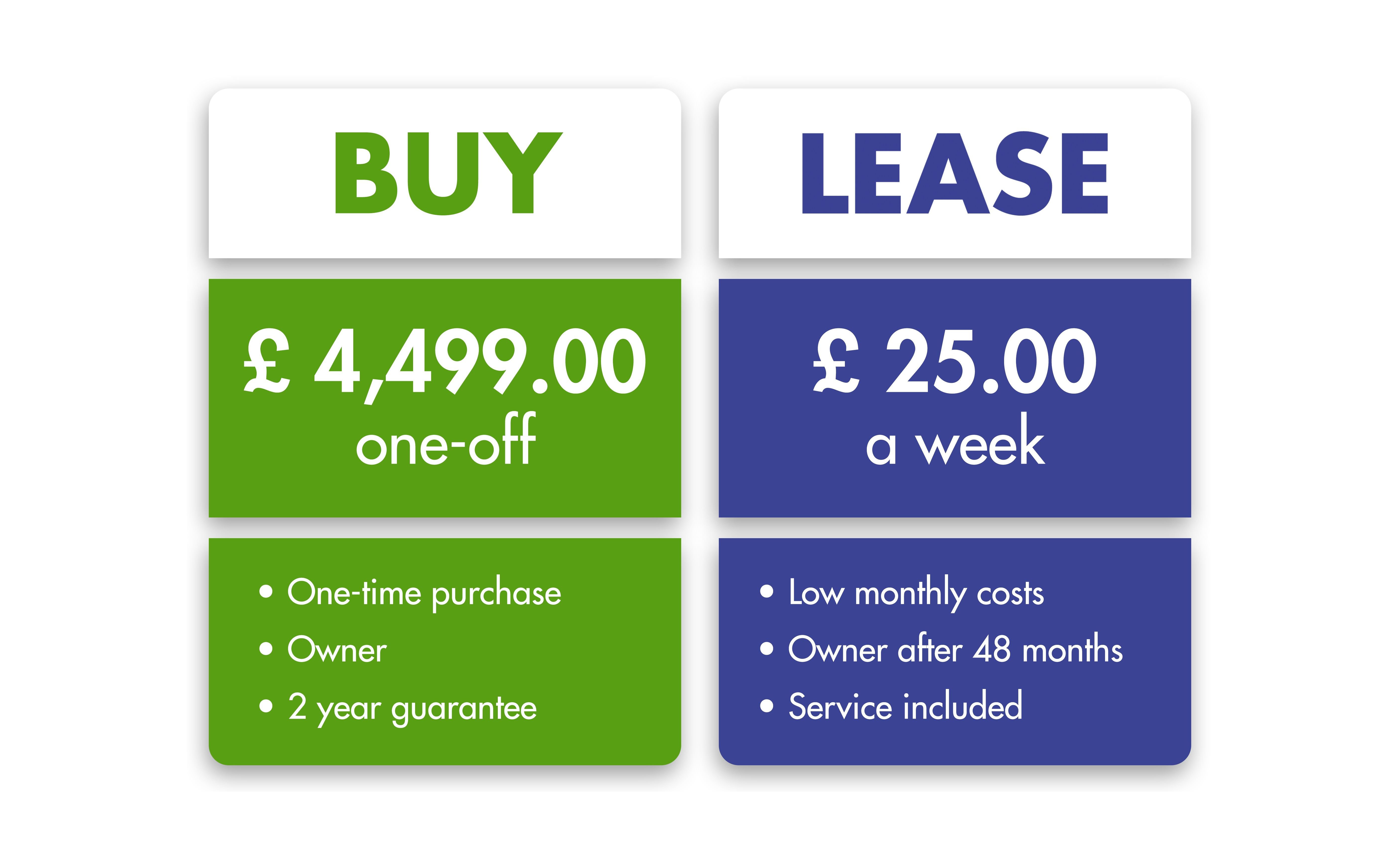 Request your free trial today
Want to know the effect of RECO Air Purifiers in your specific indoor spaces? RECO offers a one-week trial, non-binding and free of charge! We install an air sensor in the room to measure the concentration of aerosols. After a week, we give you bespoke advice about aerosol peak moments, the ideal position and required amount of air purifiers. All transparently based on the collected data.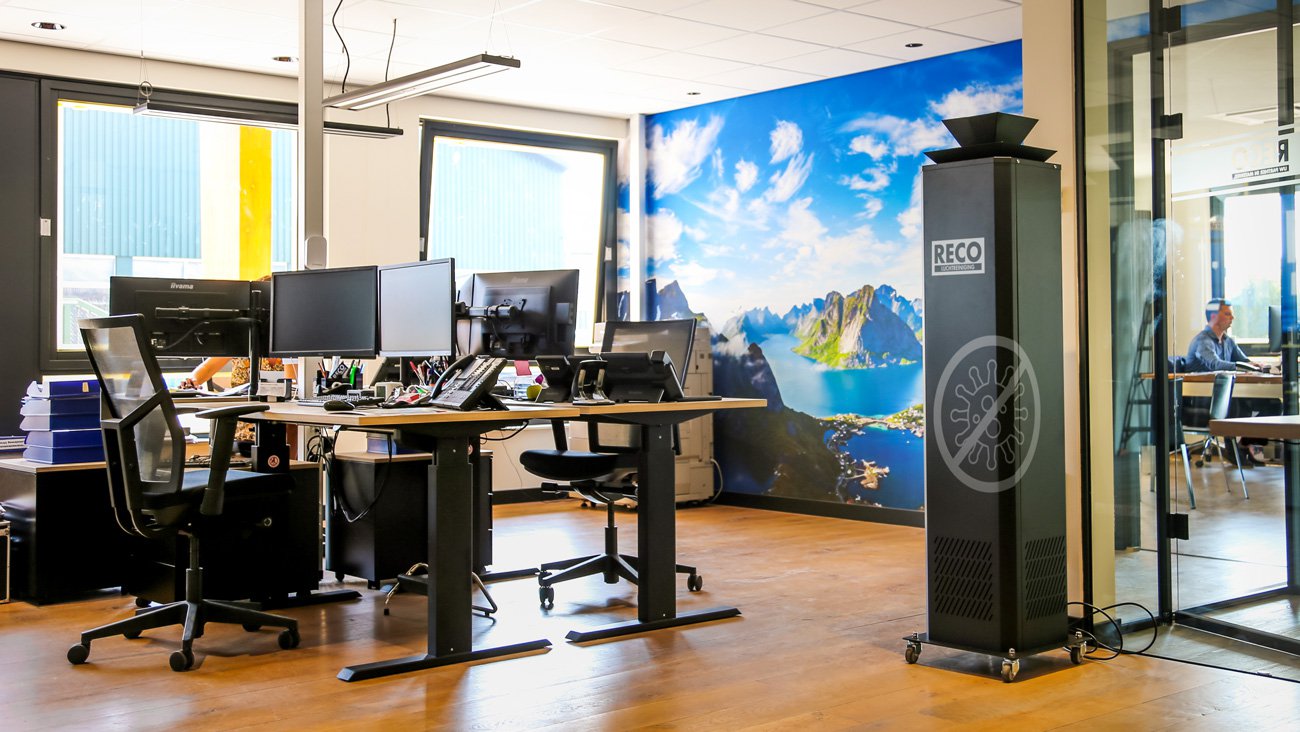 Plasma Air Purifier prevents virus transmission at the Gym
Groundbreaking research proofed that ventilation only is not sufficient in battling COVID-19 spread in indoor sporting facilities. The Eindhoven University of Technology in The Netherlands discovered that sporters have a shocking 18 times higher risk of inhaling bad aerosols.
What are aerosols and why are high concentrations dangerous?
A higher concentration of aerosols in interior spaces means a bigger chance of airborne virus transmission. Lead researcher Bert Blocken concluded that combination of ventilation and innovative air purifying the ideal precautionary measure is for safe and responsible sports. Even during the COVID-19 pandemic. Air purifiers are more energy efficient, flexible deployable and effective than just increasing mechanical ventilation. Therefore, it is a great solution for not just gyms but numerous indoor environments!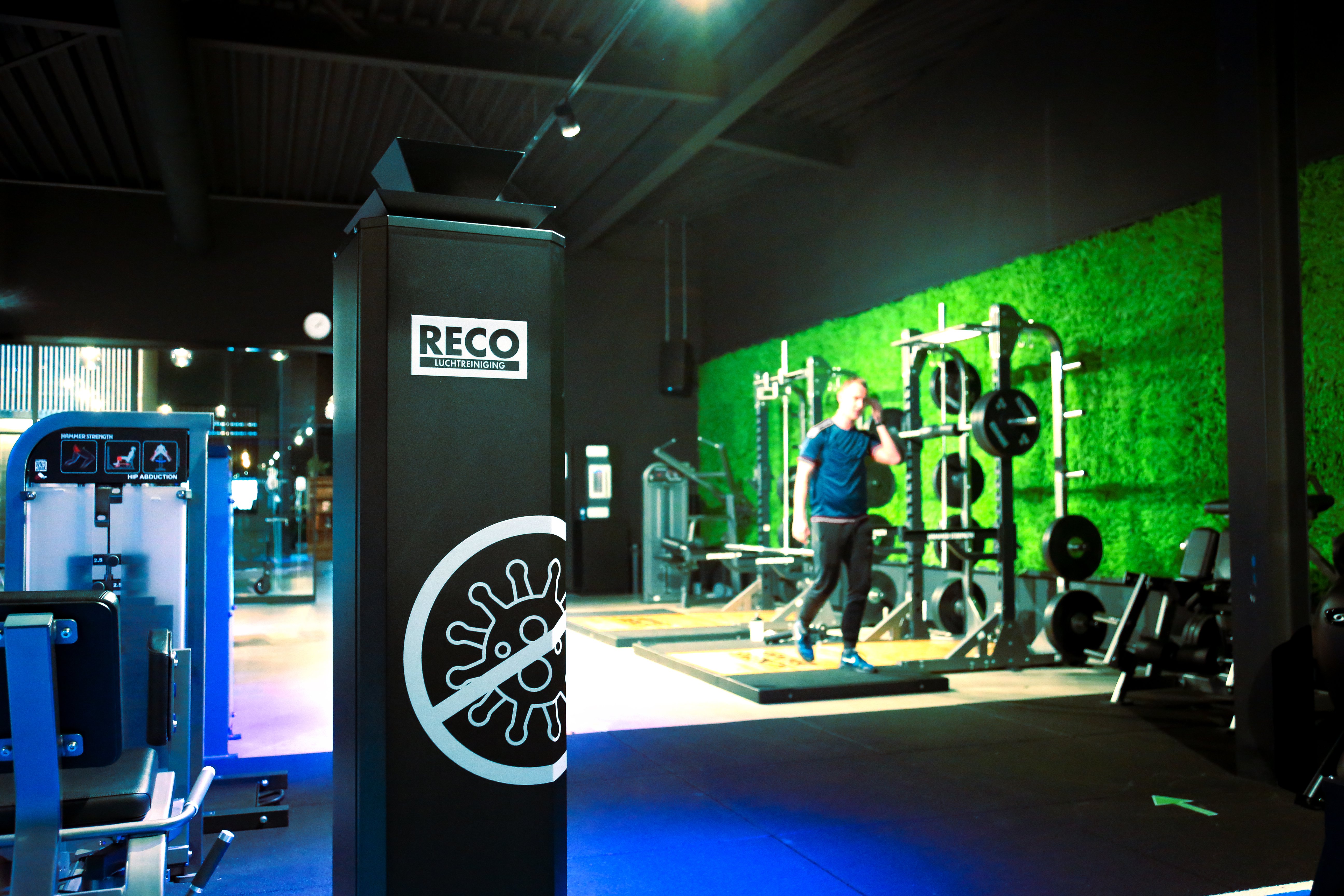 Research in gym: 80-90% aerosol reduction with air purifiers
Eindhoven University of Technology conducted a thorough research in an experimental setting of a gym. The research was done together with PlasmaMade, a Dutch manufacturer of air purifiers with a unique plasmafilter technique. 35 test persons performed physical exercise and aerosol particle concentrations, CO2 concentrations, air temperature and relative humidity were obtained in the room of 886 m³. Aerosol particle removal by mechanical ventilation and mobile air cleaning units was measured. The gym test showed that ventilation with a performance rate of 4.5 times the minimum of the Dutch Building Code, was insufficient to stop the significant aerosol concentration rise over 30 minutes. Simplified mathematical models were engaged to provide further insight into ventilation, air cleaning and deposition. It was shown that combining ventilation and air cleaning can reduce aerosol particle concentrations with 80 to 90% depending on aerosol size, compared to ventilation alone.
Watch the video to learn more about the research. The video was recorded at the start of the project. The final results are as described above. The air purifiers used in this experiment have the same filter technology as the RECO Air Purifiers.
Air Purifiers with unique filter technology
RECO offers air purifiers with a truly unique filter technology. This technology combines 4 types of filters to completely eliminate all harmful parts in the aerosols:
Plasma filter. First, the plasma which converts the O2 molecules to O3 molecules, eliminating odour particles.
Electrostatic filter. Second, our electrostatic outer cores in which we create ions that pass through the cooking air.​​​​​​
ESD Glas fiber filter. Thirdly, our electrostats with their fiberglass core which allow us to capture and store coarse pollutions & grease and slowly eliminate these by means of electrodes in a steel inner and outer grid.
Carbon filter. Last, the carbon outer core cleans the air and removes any residues, allowing our filter to completely eliminate both coarse and ultrafine pollutions.
Free 1-week Air Purifier Trial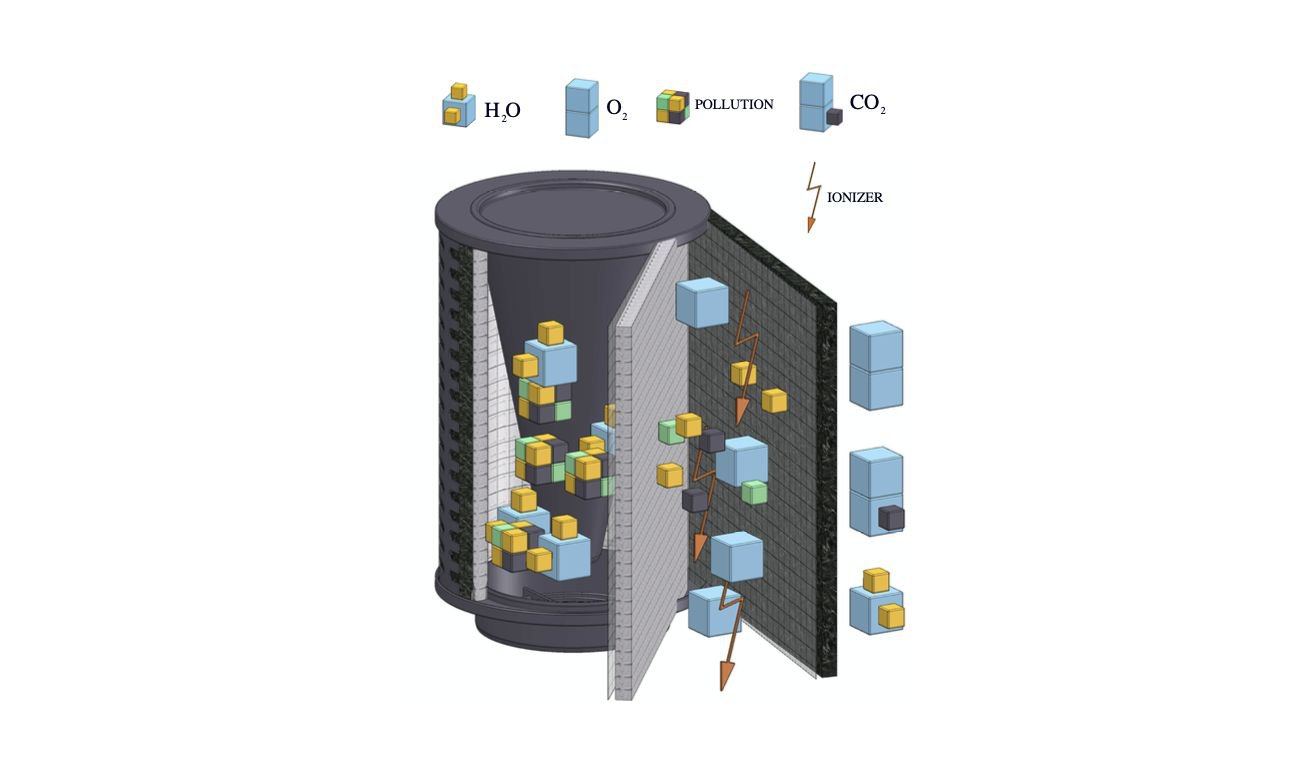 RECO Air Purification in the Netherlands
Our Dutch colleagues of RECO Air Purification are well-known for their battle against the spread of COVID-19 through the air. The RECO Air Purifiers effectively eliminate viruses, bacteria, pollen and odours. They create safe and healthy air for you, your employees and customers. Groundbreaking scientific research, which was conducted with the same air purifiers as RECO uses, found that this air purifier is effective in the battle against airborne virus transmission.